Hello everyone I'm Sheila, I'm 28 years old and my partner is 32. I would like to tell my experience from the day we found out about Eva Clinics.
My husband and I have been trying for three years and a half to create a family but it wasn't possible to achieve it in a natural manner. Since we realized we cannot conceive, we started to look for a solution.
Firstly we went to Social Security about available treatments to have a child. We were told there were two options: Artificial Insemination or In vitro fertilisation (IVF). We were filled with hope again. We underwent every kind of test and everything was perfect initially until a month before we started the treatment when we were told it was impossible to go on because of the number of gametes they found in the study I was given. They recommended the IVF treatment with an endless waiting list (about 2 or 3 years of attending), receiving that news discouraged us.
Six month later, a relative gave me some tickets to the Invitra fair, a trade fair in Valencia.  Different specialized fertility clinics take part of this kind of fair so I didn't doubt it and attended with my mother. I got as much information as possible from all the clinics but no one conveyed enough confidence, help and facility to realize the treatment. When I was about to leave my mother told me: "There is one clinic left to visit" and what was that? Eva Clinics! Isn't this a coincidence? We approached the stand and two girls that gave us information very likeable and cheerful: Belén and Angelica gave me back my hope to become a mother and fulfill my dream with my husband. I liked them so much that I made an appointment immediately to start the treatment with Eva Clinics Alicante. To get there from Valencia was not a problem for me.
One week after the fair I went to the clinic where they confirmed my first positive impression, thanks to the gynaecologist Fernando Rodríguez Belmonte and the nurse Rosa who helped me every time. Once every test was finalized, we started the In vitro fertilisation treatment. I recommend relaxing when you first begin the treatment, after that we had to wait for the beta result and I was very anxious about that.
Twenty days later, the great moment arrived and the result was positive! After three years and a half our dream was fulfilled thanks to Eva Clinics. Since then I went through every medical examination and ultrasound with happiness, it is simply indescribable; each month of pregnancy is going perfectly. It is the best period of my life, I watch my baby growing inside me, and he provides me happiness.
Right now I'm in the last period of my pregnancy (7months). I know it is a boy and his name will be Christian and we are really looking forward to seeing him on August 10th 2014. This is possible thanks to Eva Clinics, this is the best gift life gave to me. I'm going to go back there for my second pregnancy. I encourage everyone in the same situation not to lose your hope. With your hope and the professionalism of the Eva Clinics staff, everything becomes possible.
See you soon
Love and hope to everyone
Sheíla Díaz Cervera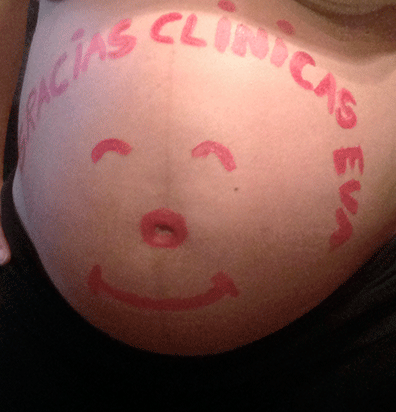 Sheíla Díaz Cervera